The Integrated Practice:
In-person yoga teacher mentorship training
A Different Kind of Teacher Training
There are so many ways to learn yoga, so many different teacher trainings out there that sometimes it is hard to know where to start and if a particular training is a good fit. 

Are you looking for something a little different? Something that respects the traditional and yet pushes the boundaries, embracing and integrating new models of thinking and moving? You've come to the right place. 
You are already a teacher and want to enhance and update your practice and knowledge. You've feel that there are some missing pieces from your 200 hour training now that you have been teaching a wide variety of people and have real-world experience. 
You want to learn more about anatomy and alignment so that you can better support your students and your own practice. 
You are looking for a community of like-minded people, a teacher that you trust, and simply can't get enough of learning new things. 

Or you may not want to teach yoga,  but have been looking for the just right opportunity to and deepen your practice and understanding of movement, mindfulness and yoga without having to commit to all the hours and costs of a full teacher training.  

The Integrated Practice
Teacher Development Mentorship
This is it. This course is is my passion, is everything that I am the most excited to share and teach. From my experience of teaching yoga and movement full-time for 16 + years, working with hundreds of people, teaching 1000's of hours, teaching teachers, I've come to realize that to be a truly effective teacher is to have a foundation of understanding human movement.
Your average teacher training is only required to teach 15 - 20 hours of anatomy. Yet, when the majority of yoga being taught in classes is asana, that 15 -20 hours isn't nearly enough to provide a rich understanding of the complexity and inherent beauty of the human body. Your body is your foundation, your vehicle and is your expression of your mind. 
And as a yoga teacher, teaching bodies to move through asana isn't just about creating shapes and offering pearls of wisdom. We can elevate our teaching by being grounded in current movement science and integrating that into the time-honoured tradition of yoga. This allows you to find your unique voice as a teacher, empowers you and your students and places you on the leading edge of the ever evolving practice of modern yoga. 
The Integrated Practice Mentorship Program is your chance to get curious, create lightbulb moments of integration and understanding, learn cutting edge information, build a sustainable yoga and teaching practice, feel a part of a community, all within an intimate setting.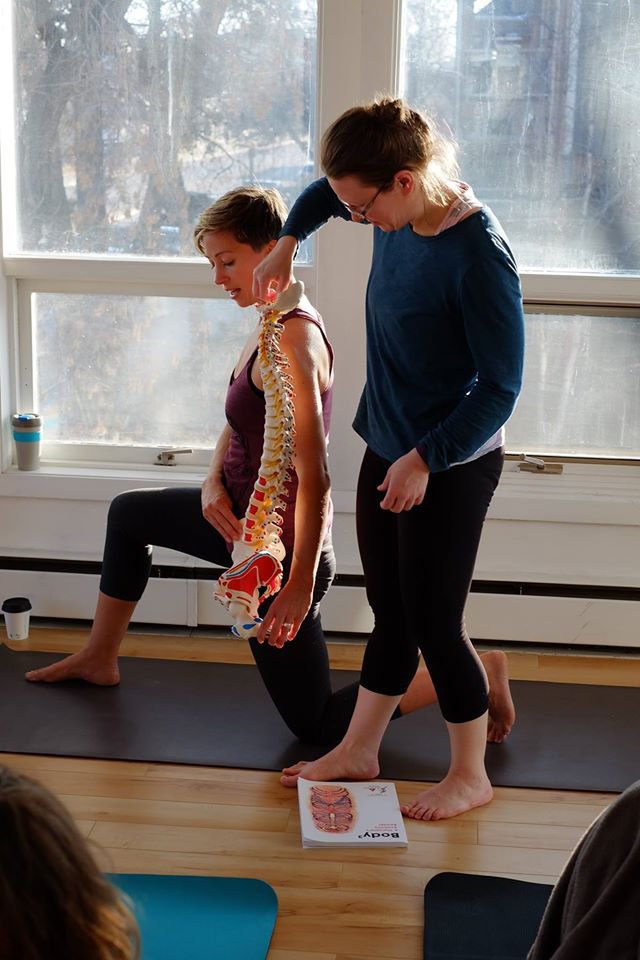 January 2018 - April 2018
4 weekends of immersive learning and weekly classes to support and integrate your understanding. 
This mentorship will help you make large strides forward in your understanding of who you are, your confidence and clarity as a teacher, your ability to understand human movement on a more nuanced level and skillfully apply that to your yoga, your students and clients, and most importantly... yourself.
January 20 & 21
February 10 & 11
March 3 & 4
April 7 & 8
$950 + gst if paid all at once
$275 + gst per weekend. $275 non-refundable deposit that you can apply back to the cost of the last weekend module.  
Weekend schedule: 
Where: Healing Connections. 10548 115 St NW, Edmonton
Saturday & Sunday- 9am - 5pm
Course Overview
The overview of the training is teach and practice through the lens of The Four Pillars of a Sustainable Yoga Practice.
One of the four pillars will be the theme for each weekend. Within each theme, there will be large focus on body reading and anatomy and how it applies to each theme. You will learn anatomy from an embodied perspective- where it isn't intellectually memorizing muscles and joints, but understanding anatomy and movement on a deeper, self-referential perspective.  A combination of biomechanics and anatomical understanding in a practical and hands-on way. 
Learning from this perspective, you will feel more confident teaching people of all ages and stages in life. You will be able to spot common postural habits that many people bring into yoga, and address that with clear, concise cueing and adjustments.  
- Refine your ability to sequence a variety of different yoga classes.
- Business of yoga
How to create your niche
Set and promote workshops
Create class and course content
Weaving throughout the training is mindset coaching. What are the things that are holding you back as a teacher? What do you need to move forward in your practice and as a teacher? 
Learn the practical, real-world tools that a teacher needs to be successful in a saturated market. The tools, techniques to really observe and see on all levels how to offer a practice for your students that serves them as an individual (and at the same time, bringing out your inner body and movement nerd!). And most of all, walk away with the confidence and clarity to be your best teacher, and reignite your love and passion for yoga!
And my favourite part- the experience of a really kick-ass community of people. Click on the link below to sign up!
Deepen your practice, reignite your teaching
Join us for the mentorship training!