Free Webinar! Yoga Teacher Toolkit
From theory to practice. A two-part webinar that looks at sustainable movement under the lens of shoulders and hips for yoga teachers, soon-to-be -teachers and curious students of yoga. 
More than an anatomy workshop, this workshop will focus on real, tangible tips that you can immediately apply to your yoga practice and teaching so that you can keep the heart of yoga.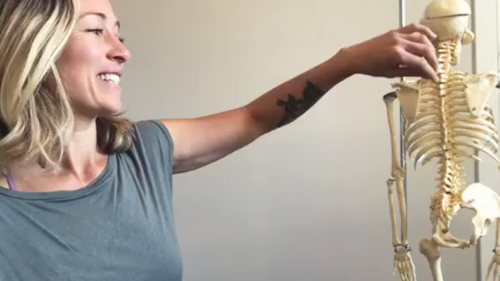 One of the biggest gaps in teaching modern postural yoga is too much information without a framework to apply it into real-life and real bodies. 

And what do you do when that information is conflicting with other research? 
It's no surprise that so many teachers feel overwhelmed, feel like they'll never know enough, aggravating that persistent imposter syndrome. 

In this webinar, you'll walk away with more clarity about what to teach, but most importantly, HOW to teach it to be a more effective facilitator. 

Build the confidence to let go of the 'shoulds', such as "I should teach this pose only this way" or "This alignment should work for everyone." 
Move past the uncertainty and overwhelm and feel confident to offer education in your classes in a way that invites exploration and care, rather than absolutes and dogma. 
Yoga Teacher Toolkit: Two webinars to enhance and inspire your teaching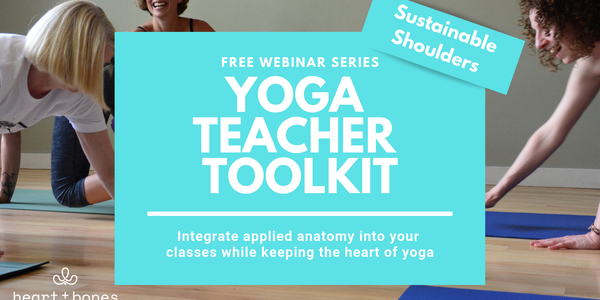 Sustainable Shoulders: From theory to practice
May3
10:00-11:00am MST
Registration is required to attend. A replay will be available afterwards. Sign Up Here
Who is this webinar NOT for?
If you are looking for the five things you should know to fix shoulders and hips.
If you are looking for black and white answers,
If you are looking for someone to give you a script, method or rules. 
If you said yes to any of these points, then the webinar isn't for you. Because as yoga teachers teaching other humans to move, breathe and connect with who they are, it does a disservice to try to fit people into a system, a pose, a method. 
We are simply too diverse, with different lived experiences, bodies, minds and hearts to think that there is one solution, one way for everyone.
The yoga happens when we are asked to do the work of listening, reflecting, growing and evolving. And as teachers, we are more effective when we do that in ourselves and offer that space for others. 
Because there are no hard and fast rules, one method or system does not rule them all, no one has all the answers and you can't possibly know everything.
And once we are ok with that uncertainty, then the learning gets fun.

That works for me! So, what will I learn?
To reframe how you approach your teaching, becoming more clear on how and why you teach, helping to build confidence and direction. 
A framework that helps you integrate movement research into your classes no matter what type of classes you teach.
Tips, tools, ideas for creating safe spaces and sustainable movements that you can immediately apply.
Get a clearer picture of what hips and shoulders need for happy, healthy, sustainable movement (hint, it's not that complicated!)
Feel re-energized and inspired about your teaching and practice. 
Ready to join?
Sign up for each workshop in the links below. To attend both workshops, you have to register for them separately.  Registration is required to attend, replays will be available afterwards 

Email questions to: brea@heartandbonesyoga.com