Free Year of Yoga Special!
Have you been thinking about joining the online yoga studio? Well, we've got a little something to tempt you further (and make a loved one very happy this holiday season)
Purchase a yearly membership and GIFT a yearly membership to someone you love. 
It's a 2 for 1 one type deal. A crazy good, 2 for 1 deal!
I'm sharing this generous deal because I truly believe that the more people who feel better in their body, mind and heart, the better.  
And it's also MY gift to you, in celebration of the upcoming one year anniversary of the online studio which is coming up on January 15.
*This gift-a-year membership offer is only valid until January 15, 2019*
The online yoga classes are so good for your body, mind and heart. And they benefit so many people in so many different ways. Check out what our current members are saying.
Want more detail about the online yoga studio? Read more here and get a sneak peek inside!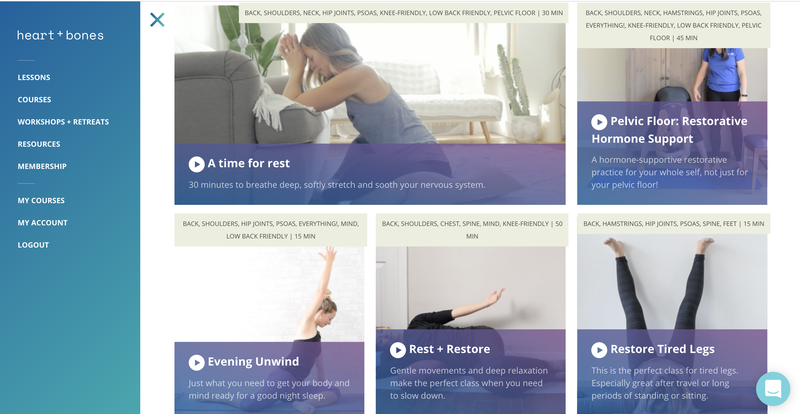 How It Works:
Sign up for a free account
Click on 'purchase yearly membership'
After purchasing the yearly membership, email your receipt to brea@heartandbonesyoga.com
In that email, tell us the first name of the person you are gifting the free year.
We'll send you a digital gift certificate that you can print off and put in a holiday envelope or send as an email.
Voila! Now you get to enjoy all the yoga you want AND give a fabulously thoughtful gift to someone.
Do you have someone in your life that would benefit from this approach to yoga? Let's spread the sustainable yoga and movement love far and wide this year!
The mother-in-law who is hard to buy for and has knee pain or a bad back.
The perfect gift for care-takers who are supporting sick loved ones.
An aging mom, who has limited mobility and has been looking for something just like this. 
A hard-working nurse who doesn't have the schedule to go to a yoga studio.
Busy mama with small kids and little time for self-care.
Dad, brother or uncle who would benefit from yoga but wouldn't feel comfortable in a yoga studio.
Yoga teacher friend who is looking for inspiration and ideas for their classes.
It's the perfect gift for yourself and for someone you care about. Sign up through the link below. See you in the online studio!
Sign up for the year membership now!