July 17, 2020
Words of Love For The Modern Yoga Teacher Training
Need some inspiration and more reasons to join the training? Read through the loving words of our graduates.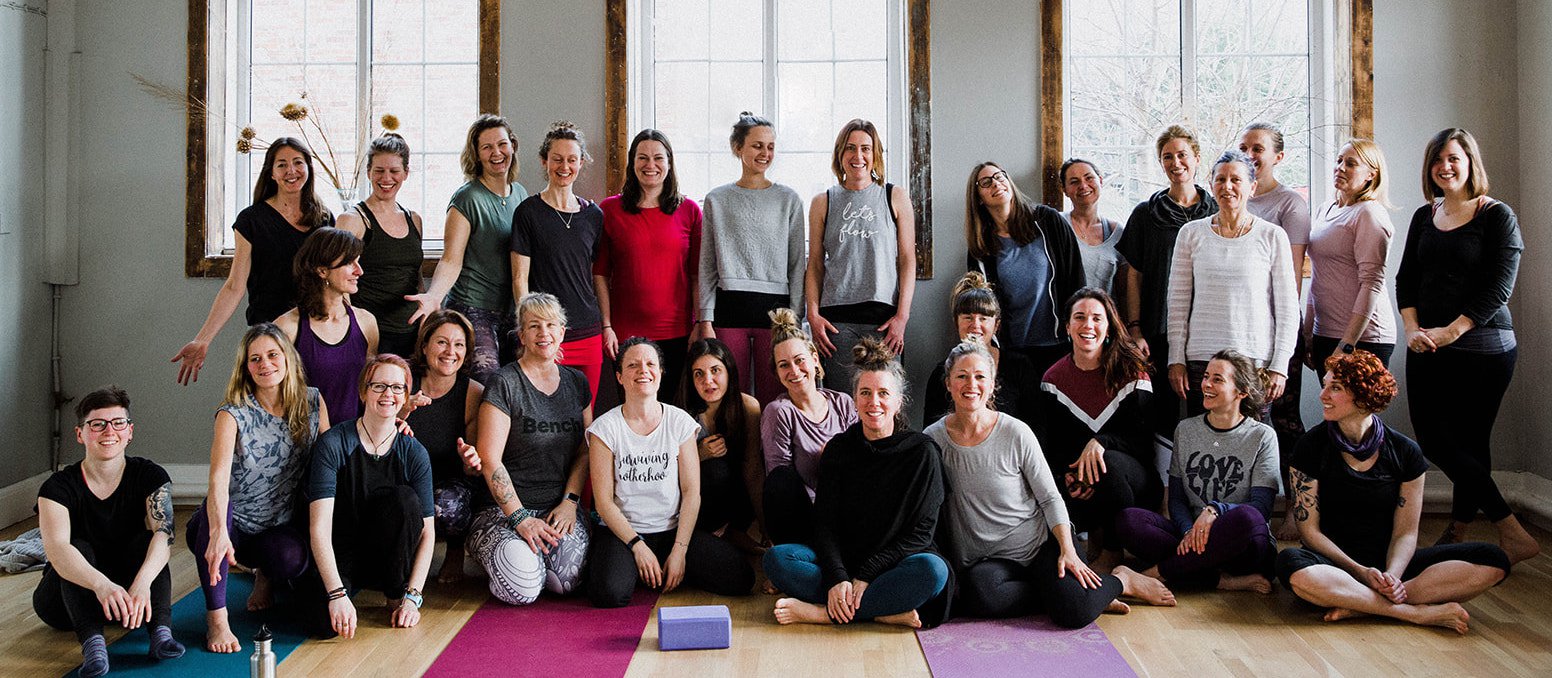 Joining the training and this community has been without a doubt the BEST decision I have made since becoming a yoga teacher.
Emma, UK
Teaching Inspiration:
Monique, England:
The effects of training are still percolating and settling and I can see how my confidence has grown. Here is a moment that I wanted to share with you because it highlights how far I've come.
I was contacted by a woman for a private lesson and she mentioned having surgery on her leg a couple of years ago and left in chronic pain. On the day we met, she had a walking stick and was unsteady on her feet. Without the Modern Yoga training, I know I would have taught her enjoyable classes mostly from a chair, but I wouldn't know what else to do for her from only knowing more traditional poses. And I'd quietly be freaking out that was going to injure her. 
Instead, my mind could rifle through the lessons from the course and select a few helpful things. 
The best moment was seeing how her whole face became alive and feeling her "weaker" leg muscles wake up in a supportive way. It was so lovely to see her leave feeling excited to practice something for herself. 
It was a real-life experience of empowerment and without working with you and Kat in the training, I would not have had the resources or information to confidently offer her that technique. I want you to know how much I value your training and encouragement.
I cannot recommend the Modern Yoga course enough. It is thorough, succinct, clear and comprehensive. I was looking for a way to grow my love of yoga supporting healthy movement and this course was perfect. My body and mind thrived throughout the training and I have a new dimension to both my personal and teaching practice.
Tanya, Scotland
How the training is reflected in real-life:
I am probably behind the course schedule, but I don't feel behind at all in terms of integration and embodiment. Learning is cyclical, non-linear, aha moments happen here and there and in new and old content. For me, being a big advocate of diversity, modifying, etc, giving myself a break is also giving myself permission to NOT be so diverse in my teaching of movement at all times. 
But to revisit and repeat in my own practice as well as in my teaching. What's been resonating in the course is "variety/embodiment over performance/perfection." 
When students ask me, "Is this correct?" "What should I be feeling?" I'm reminded of my role/value as a teacher is not instructing or providing precise answers, but to provide the environment for exploring and finding one's own path. This has been a huge reminder, thank you.

- Nadine, Switzerland
This training really accompanies you from day one and on so many levels: be it the lovely and caring mails, the in-depth anatomy lessons or the mindfulness practices – it is such a well-rounded, thoughtful and holistic experience! I especially loved the many lightbulb moments in my everyday life that I am so looking forward to continuing to have this amazing community. I absolutely admire how you manage to convey that feeling of belonging, trust and space for authenticity via an online platform!
Sabine, Germany
How has the training impacted you?
Korey, Canada: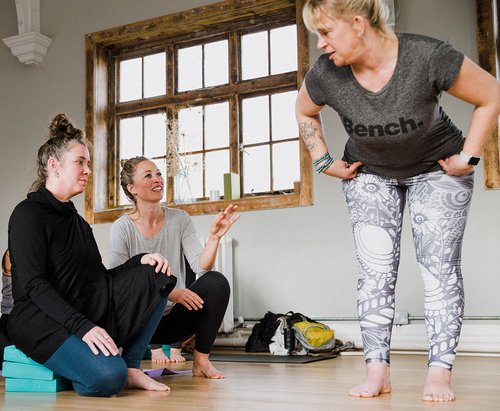 Heart and Bones gave me a yoga home and community. I felt supported as a teacher, I found resources to expand my skills and also confirm my teaching and blending of yoga and Pilates. But personally... it's been the most important within my heart growth.  
I wanted to share an experience from a recent class. Someone expressed that they had a "frozen pelvis" and couldn't put on their socks. So that became a teaching moment to break down what that movement was and how it feels. We ended up breaking down a bunch of other movements and poses and putting it all back together into a traditional flowing class incorporating our new shapes. 
They all loved it and reports were so positive for getting on their socks the next morning! Being able to have this knowledge and bring more support for the people in my classes is huge. 

What part of the training did you love the most?

I have described as the first I have ever received real validation while in a teacher training. It's a community of people supporting each other no matter what we teach or don't teach. Where all ideas have merit, value and respect. This is my yoga home.  I  grew both personally and professionally with the support here. I have more confidence, I found this helped me finally speak about being a teacher in a way that acknowledges the level of education and professionalism, dedication and effort that we put into our profession.
My gratitude for a vision so large, welcoming and supportive that it is boundless!
I love how Kat and Brea are triggering new thoughts in me of ways I can be kinder and less judgemental of myself and others.
Emma R, England
How the training shows up in real life:
I wanted to say a huge THANK YOU to both of you for the teacher training. It has gone beyond my expectations. The space you both held and the opportunity you gave us was all incredible, open-source learning is the way forward! I've never been in a training where I've laughed so much but where I've also learned so much. 
The out-of-the box approach in this training, the way it's organized and taught so differently from other trainings I've done has provided me with so much relevant information to help me grow and develop within my own teaching style. It's made me feel more empowered and true to myself as a teacher. I love how we're not given all the answers, but the most beautiful thing is that we're taught the tools to find the answers for ourselves. 
The encouragement to find our own unique voice and to be true to our vision is powerful, not to mention the Heart + Bones community and on-going support after graduation. Again, thank you!

 - Anna, England
I loved everything about this course! I found it incredibly inspiring for my teaching and for me personally. I couldn't have anticipated how much I would learn about so many topics - from biomechanics and alignment to mindfulness, and also about the business side of yoga. The online portion of the course was well constructed; the lessons were informative and clear, and even though there was so much to learn, I never felt overloaded. The monthly group calls gave support throughout the course. My confidence as a teacher has grown so much since the start of this course. Brea and Kat are wonderful, loving, and generous teachers. It has been a joy to learn from them!
Isis, Ireland
How has the training impacted you?
Jeanette, Scotland:

It has been a rapid period of learning! What I am perhaps most surprised has been this re-kindling of the 'mind' and philosophical aspects of yoga. I am already immersed in movement but this rather snuck up on me and it has driven me back to philosophical texts. Also for me perhaps the pivotal point was the "why" section. This was the single best thing I think I have done - come up with 2/3 words to describe my whys. I thought this would be so hard (as I have lots of interests) but actually I came up with two and the clarity that has provided almost blew my mind!
What aspects of the training did you appreciate most?
I am actually a big fan of online learning - it gives me the chance to repeat many times and go off on my own tangents of research. So all that worked well. I love the live call format and it was nice to feel part of a group. The facebook units for the homework was nice too. I feel very supported by all three of you - Shannon, Brea and Kat - you all came back super quickly and the course is very well organized.
I really loved it the training! The live calls were great, you still got that sense of connection and love from everyone even on the recordings. What you've all created is truly amazing. I really never thought I'd be 'this confident teaching.
Lydia, England
How has the training impacted you?
Valeria, Italy: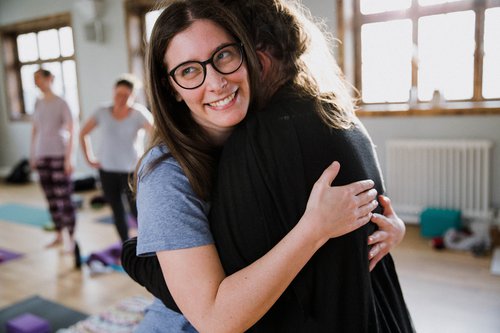 I had been practicing yoga by myself for several years and the idea of teaching always intrigued me and I Iove Brea's style of teaching, started practicing with her in the online studio and decided that if I ended up doing a YTT, this was the right one! Prior to the training, my knees and back were hurting, seemingly without cause. I had already seen two physiotherapists at the time, they were helping me, but still couldn't find a "solution". I knew my pains were connected with my yoga practice in some way, but I couldn't figure out how and at the same time I didn't want to give up my practice. 
I have now so much more movement knowledge and I'm more aware of how my body moves. Practicing daily the 4 pillars of movement! Before the training I thought I was "broken". Something wasn't working in my feet/knees/back and I thought there was nothing I could do. Moving better and more often proved me wrong.
What aspects of the training did you love the most?
I really loved the live calls, they gave me the feeling of being part of a bigger family. This has been such an inspiring training, I think what was missing in my yoga practice was a sense of community and sharing (I've always practiced alone, no yoga classes near me) and I definitely found it in this training. 
I used to feel like yoga wasn't accessible for me as a hypermobile person, as my flexibility was rewarded (despite causing me pain problems) and I didn't have the skills and understanding to build stability. Chronic pain had left me feeling unsure and with little confidence around exercise. The anatomy training and encouragement to explore boundaries in the course has been the best pain management I could imagine!
Kat, England
How has the training impacted you?
Laura, Ireland: 
I was struggling to have a clearer and more focused understanding of how to shift my teaching and my own practice away from "traditional" asana, to a more modern, sustainable and functional approach. I had ideas, but lacked the bigger picture. I feel so much more confident in making that shift and stronger in the "why" I felt the need to make these changes. 
Also, this is the first course I've taken that has asked us to explore who we are as teachers, why we teach, who we want to teach, etc. This has been invaluable and will be a source of inspiration and growth going forward.

I was surprised at how much I enjoyed the mindfulness aspects of the course. It's not something I've ever really explored, and I got so much out of it. In the same vein, I also appreciated the homework and the suggestion to keep a journal. I've never really journaled before, and I found it super helpful and meaningful. I'm hoping to keep it up! And most of all was how personal and in-depth the course has been - not just poses and anatomy, but tools and thoughts for our own inner growth as teachers and as human beings.

What aspects of the training did you love the most?
The course has helped me to better understand both myself and my role as a teacher. The framework of the 4 Pillars of a Sustainable Yoga Practice is a clear yet constantly evolving tool to support your teaching. The mindfulness teachings encourage a deeper understanding of yourself and your relationship to the practice of yoga- as a teacher and also as a constant student. My deepest gratitude to Brea, Kat and Shannon for all of your teachings, wisdom and support!
I was drawn to the course because I wanted to learn the modern yoga approach; moving with love and mindfulness. I was struggling with finding my niche and also with traditional versus modern yoga approach. The online communication, organization and everything about it the course was just what I was looking for. Thank you!
Veronika, Bosnia
How has the training impacted you?
Sharon, UK: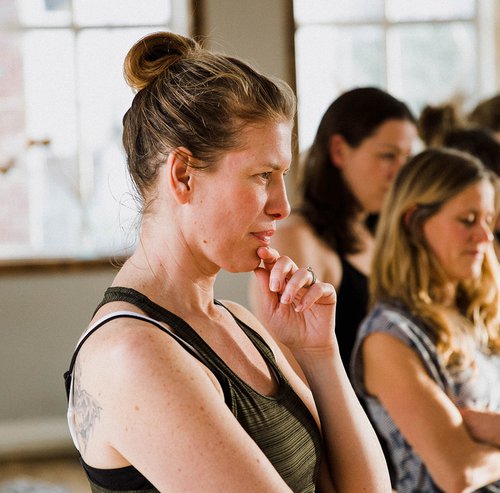 With a changing body and a practice that was evolving, so much of her teachings resonated with me. At that time, I was struggling with health, relationship issues, feeling a bit stuck and frustrated that there wasn't more mindful, sustainable yoga out there to support my body. I have wanted to do a new yoga TT for a couple of years now, but due to health & finances, I wasn't actively looking. Then my path crossed with Brea and instantly I liked her and her approach. 

My belief in community has grown, the training has shown that we are stronger together; to bond, to reach out, to collaborate with others. I've learned that I should be proud of myself, celebrate who I am as a person and a teacher and trust that the right people will find me when I set up my classes. 
What aspects of the training did you love the most?
I really appreciated the support, the heartfelt love, the lack of pressure made a massive difference(I prob would have bombed out if there were strict deadlines). I appreciated that there wasn't a massive amount to hand in but we could do the homework on our own and reach out if we wanted to discuss. The training runs alongside our lives & didn't dominate it. I love that we have lifetime access to our course as I will certainly be going back and revisit the course, use the online studio classes so that the teachings continue to integrate.
I feel like the course is a big warm hug, filled with love, warmth, authenticity. With wonderfully supportive teachers who deliver great material, which is easy to follow. They all have a passion to help others become confident teachers; giving them all the tools they need to go into their communities & teach what resonates with them. Completing this course leaves an imprint of sustainable yoga practice for us all to share.

Absolutely love you all, thanks for your love and support & I look forward to learning more from the training, teaching more H+B inspired classes in the future.

How has the training impacted you?
Kasia, UK:
I was struggling to understand the "why" behind yoga asana and now that I'm done the course, I feel like I'm gaining so much more confidence and learning about the movement and human body that it's just pure pleasure. I don't feel any pressure anymore and don't have the sense of rushing, it all just feels right and as if it was always coming in the right time and as the information comes and even if I heard it before, with time and experience it, it lands differently within my mindbody.
My teacher identity is shifting and changing still a lot as I keep uncovering the layers of myself that are not true to who I am

What aspects of the training did you love the most?
I love the live calls! The anatomy is just so beautifully plotted within the classes. There is so much information, so much content and it's all super interesting and I'm sure that it's just a tip of an iceberg but it's a wonderful place to explore and build a solid and very informed practice!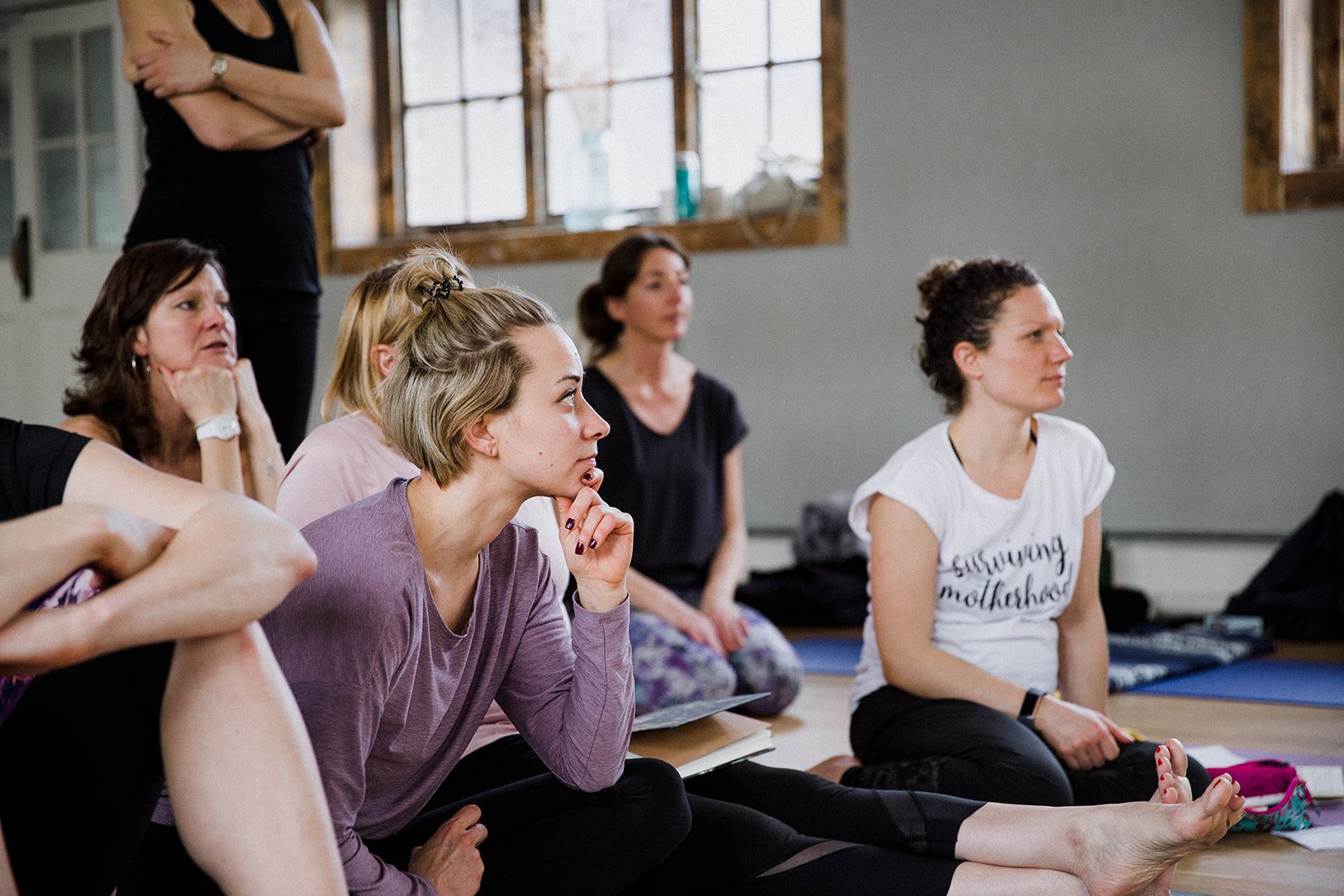 How has the training impacted you?
Evamaria, Netherlands:

I was drawn to the course because of the modern approach, in-depth anatomy and biomechanics focus, playfulness. I was looking to fully integrate the teachings of my first YTT into how I practice and teach. Something was always missing for me. It seemed to me like my world off the mat and on the mat were two different planets. 
Now I have more confidence in teaching because I have a better understanding of what is going on in the body (muscles, skeleton, nervous system) and can understand my students better. I have found more clarity about WHY I teach and WHO I am serving. This training has changed my life, YOU ladies have changed my life!
What aspects about the training did you love the most?
I thought it would be easy to fit in the studying and homework time, turns out it was quite a challenge, especially with the latter. Nevertheless, I felt well supported and encouraged by the course structure. I was positively surprised how quickly and naturally the teaching materials would find their way into my teaching style, not changing but rather enhancing my teacher identity that was already forming.
I love live calls, study group calls, the practicality of the training and always being met with an answer when questions arose.
"Focusing on decolonization was an unexpected joy to this course! It is an area I had not considered in the context of yoga - it really opened up my eyes to how I want to practice, how i want to teach others, how i want to treat others and understanding better my responsibility in society."
- Charla, Canada
How has the training impacted you?
Patrizia, Italy: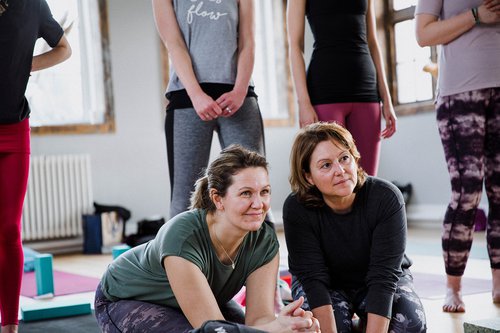 I was looking for clear technical information about the body and understanding why some postures can be dangerous. Wanted to find a clear way to define "safe" and be able to cue my students. Maybe the most important thing I learned is that "I am good enough as I am". I found the technical info amazing, but the sense of confidence and loving-kindness from Brea and Kat is the thing that has marked me the most. It's made the course a pleasure to work through and integrate into my practice and classes (having been always the perfectionist, competitive etc).
What part of the training did you love the most?
I was touched by the sense of support by all. The course helped me to express my teacher identity. I was already coming from a non-trad training but that felt closer to pure movement (and really less "yoga"). Here I have seen how mindfulness integrates well with a non-trad approach. It resonates with me.
The benefits of the online educational format:
"I loved how the course was organized from the live calls, the mentorship program, the breakout rooms. For an introvert like me, I felt like I was more involved in the community." Lori, Canada
"I loved that I could work at my own pace without feeling the pressure of deadlines. I appreciated that there was more focus on self-reflection instead of "hand in" assignments. I also really enjoyed the Zoom calls and being able to connect with so many wonderful people from around the world within the comfort of my own home! I enjoyed every aspect of this course!" - Jennifer, Canada
"I'm a mom of 2 so it was invaluable to be able to do the course online and in my own time. I loved the connection via the bi-monthly calls and mentor calls and discovered that I knew more than I thought and trust myself more. And it was powerful learning about yoga's roots and how to honour them with Kallie Schut. Thank you for this training." 
-Chantal, UK
"I like how the course fit in with my work schedule and loved the option to download the videos so I could listen during my commute. The small mentor groups were also very helpful, you have all made a beautiful and empowering experience that is life-changing. I feel so blessed to be a part of this community." - Kelsey, USA
"I appreciate the online format of the course, doing it on my own time and how it was divided into body parts and that it was science-based. It took the stress out of "I'm not even that good at yoga, why should I be teaching it?" Now I feel more confident in my cueing - I had a lot of the anatomical knowledge already, but to know how to teach it more effectively to others has been great!" - Charla, Canada
 "The lessons are organized in a way that is like reading a story, you are the main character and you are witnessing it unfold! The live calls with our mentor were a big highlight and the asana practice variety is bomb and seriously magical. Loved every minute, thank you!" - Willie, USA
"I liked how it wasn't a pre-packaged online course. The live calls and the mentorship was helpful and it was great to have many of the videos under 30 minutes.  It was incredibly well organized, thank you!" Jess
"I love that the course allowed me to work in my own time and pace. I think the lengths of the videos are perfect and I love the ease and joy they show. They make you feel like you're in the room. Plus I simply love listening to you as you nerd out and have fun with teaching!" - Biddy, Netherlands
"I loved that it was all online as it was practical for me to complete around the kids. Being able to do it all at my own pace allowed me to actually integrate it into my daily life as I went, and that was powerful for me. It's THE best training I have ever done. Thank you!" - Elise, Australia
"This training has helped me feel more confident in my practice and my ability to guide others. I liked the ability to move at my own pace with some guides in place. I especially liked the openness to all different ways and styles of moving and not preaching one way as the end all be all. Thank you for this very open and inclusive, and paradigm shifting course." - Jenna, Canada
"What stands out the most for me is the HUGE support of the online community. It's so special that you've created this strong personal, vulnerable and funny online space where you are really heard and seen. I love that every question was answered, not matter if it was asked in mentorship groups, the online course or in the live calls. You really are there for the students, and I thank you for that." - Krista, Netherlands