Practicing yoga is a process of refinement- the more we practice, we learn about who we are. And the most effective laboratory for self-understanding is through the body.
Brea Johnson, founder Heart + Bones 
Heart + Bones is your guide to build a sustainable yoga practice. 
A sustainable approach to yoga means you are supporting the health of your joints and muscles so that you can do all that you love with ease for years to come. 
You'll enjoy simple and accessible movement education and heart-based practices to help you feel better in your body and clear in your mind. Yoga that accepts you as you are.
Learn and move with us in a workshop, online classes, courses or free resources. Scroll down to meet Brea Johnson and our other teachers.
What we know and how we help
Born out of almost two decades of teaching and practice with 1000's of hours of education and teaching, Heart + Bones has been leading the way in a sustainable approach to yoga.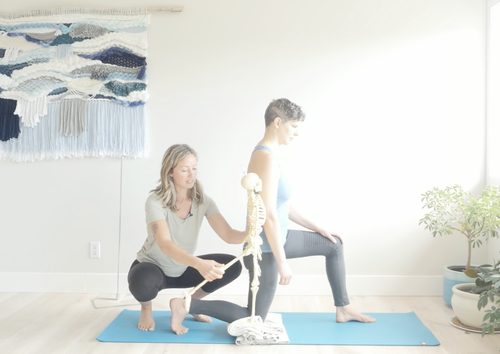 This is the perfect balance between the heart (all that you love about yoga) and the bones (all that amazing movement education). 
You won't find a million rules to follow, trademarked practices, or guru teachers here. 
- What you will find are online yoga classes that your body loves (and trusts). 
- Comprehensive continuing education for yoga teachers and curious students. 

- Workshops and retreats around the world that expand your knowledge.
- A global community of people who are moving with love in so many ways.
Scroll down to meet Brea Johnson and our team of wonderful teachers in the online studio.
Fit your needs
You might be dealing with a nagging injury and you want your yoga practice to help, not hurt it. 
Your shoulders and hips seem chronically tight, even though you have been practicing yoga for a long time.  
New to yoga and want to make sure you are doing it right. 
You don't quite feel comfortable in a yoga studio and prefer the simplicity of learning at home.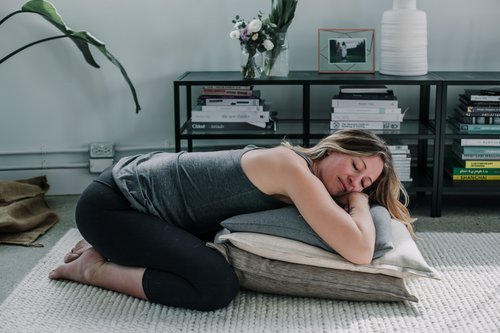 This is your place to learn all about simple, effective ways of moving in the ways that your body (and heart!) appreciate.

"I wanted to say as someone with hypermobility syndrome, thank you for creating yoga that's safe for me to do. I've found the classes so helpful for reducing my pain levels as I've finally found a safe way to stretch and strengthen my muscles." - Rachael, UK
Reignite your teaching
Are you a yoga teacher looking for ideas and inspiration for your teaching and classes? Maybe you're seeing chronic habits and injuries in your students but not sure how to help them. Or you geek out on all things body, anatomy and movement, but have no idea how to actually put it into your teaching.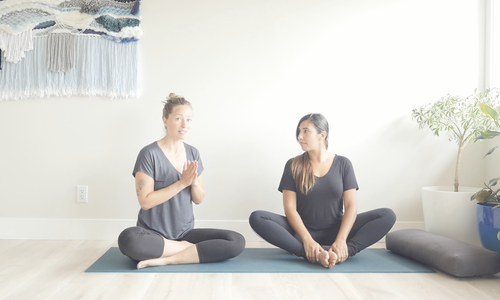 Support for your teaching

Head to the Resource section for great educational tips and tools.
Join the online studio for sequence ideas and to experience this approach in your own body to more effectively teach it. 
Listen to the Move with Love Podcast inspiration and reflections on teaching yoga... a love letter to yoga teachers. 
And if you are ready to be on the leading edge, dive in and learn more, join our online (and completely awesome) teacher development course, The Modern Yogi. 
Become certified in this sustainable (and loving) approach to yoga in the Modern Yoga Teacher Training (200/300 hour. 100% online for 2020, we've trained hundreds of teachers from around the world. Read about the certification here and find  a Heart + Bones trained teacher near you.
Meet Brea Johnson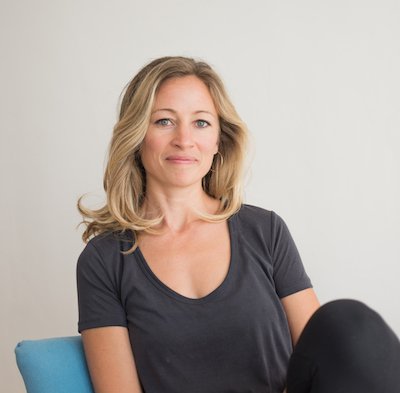 As someone who has been practicing and teaching yoga for just about 20 years, around 10 years ago, I started to noticed an interesting trend in my classes and trainings. After working with a countless variety of people of all shapes and sizes, I couldn't help but see that not all yoga postures were truly beneficial for everyone. I tried to find a yoga style that could work for every body but never found it. 

I soon realized that it wasn't about a particular style of yoga, rather it was the way in which we approached the yoga poses. With the emphasis on repetitive movements, extreme ranges of motion without stability, people were creating wear and tear in their joints and muscular imbalances that were resulting in yoga-related injuries. 
To solve this issue, I had to continue my education outside of the yoga world so that I could better understand the body, and human movement. This brought me to learning more about anatomy, biomechanics and when I integrated that knowledge back into my yoga practice and teaching is when everything changed for the better. 
Feeling the difference in my own body and seeing the difference in the people I worked with, was the turning point. There had been a gap in yoga between what we are traditionally taught and what movement research informs us about what we need for healthy movement. 
Observing this missing link was when I made the choice to be a leader in this new movement and dedicate myself to moving the practice forward both in education for yoga teachers and safe, sustainable practices for everyday people. 
It is so beautiful to be able to train forward-thinking teachers and work with so many people around the world, who are keeping yoga a living tradition by asking more questions, and helping to redefine yoga for themselves.
Thank-you for joining me... Read more about my approach to yoga here.
Heart + Bones Yoga respectfully acknowledges that we reside on the unceded traditional territory of the K'òmoks First Nation.
Meet our Heart + Bones Online Studio Teachers
Kat Boehm: Mindfulness Talks + Practice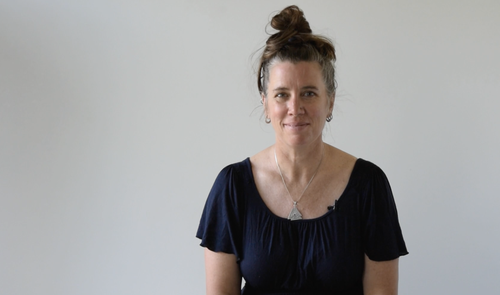 You won't find Kat Boehm anywhere on social media, she's too smart for that! Which makes it even better that we have her wisdom to grace us in the online studio. 
Kat is an esteemed mindfulness teacher (and amazing movement and yoga educator) who's approachable and relatable ways of sharing mindfulness has a special way of making people feel seen and heard while offering loving insight into the mind and heart. 

She's no stranger to exploring the nature of the mind from years of attending silent retreats around the world (for months at a time!) and that time spent in silence has given her unique insight and a playful way of normalizing the struggles we all go through in life.
If you are in our Modern Yoga Certification, along with Brea, Kat is one of the main teachers, not just sharing mindfulness insight but sharing her 20 years of practice and teaching as a yoga and Pilates instructor. Head over to Kat's website here.

"Kat, thank you from the bottom of my heart. I love your teachings, but this one especially spoke to my soul and brought so much new love and curiosity into practicing mindfulness. What a precious insight and gift." - Sara, Cambodia

Deepika Mittra: Therapist + Self Care Expert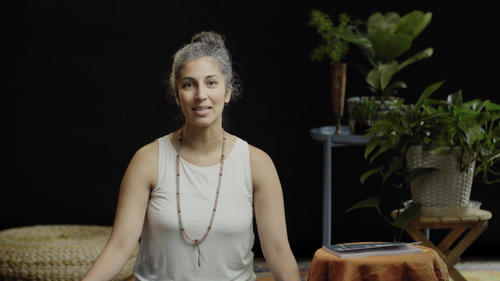 As our resident therapist and self-care expert, Deepika Mittra brings a wealth of practical tools and compassionate insights for your mental health and wellbeing. 
Deepika's lessons inside the online studio are the perfect complement to the movement and yoga classes. From her years in private practice as a therapist (and as a mother of two young boys!), she has a knack for saying just what you need to hear, in the most simple and loving ways. 
Our online studio members love the combination of talks and practices that they can immediately apply to their life. 
"This was powerful. Feeling things in our bodies can really make a huge difference. I was amazed at how my body was reacting during the yes/no exercise. This is eye and heart-opening. Thank you for sharing with us, Deepika" - Kristine, USA

Amanda Ford: Strength + Fitness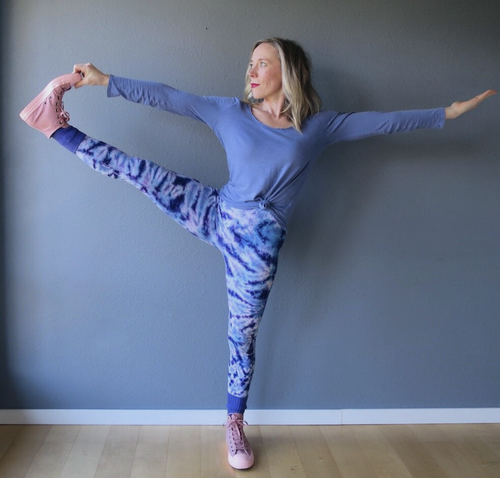 Amanda Ford isn't your average strength coach and that's why we love her at Heart + Bones. Amanda has a special way of teaching movement and strength work that's fun, smart and extremely accessible.
As wonderful as yoga and mobility are, we also know that strength-work and fitness supports our mental health and physical wellbeing.
Amanda's classes in the online studio bring the same sustainable approach that we have in our yoga classes.
With smart and effective cues (not to mention amazingly colourful outfits that match her playful personality), Amanda easily guides both the person who has never picked up a weight in their life to the longtime fitness expert. 

Best of all, you don't even need weights to do her classes. Amanda has a list of common objects that you have lying around the house to use instead. 

Our Heart + Bones members LOVE Amanda's classes and most of the feedback we get is from people who haven't done strength or cardio before or have an old injury and they are surprised just how safe and effective her classes are for them.

But be warned! Amanda guides you so easily that the next thing you know, your heart is beating, sweat is dripping and you have a huge smile on your face. 

"YES to sustainable strength training. I struggle so much to get this into my life but I loved this. I'm travelling for work and I just filled up two water bottles to use as weights. It was perfect." - Jessica, USA

Heart + Bones Guest Teachers
Every 8-weeks we start a new cycle of classes with different "heart" and "bones" themes. With each new cycle of classes, we invite a guest teacher to share their wisdom and expertise. Our guest teachers are listed below and all of their classes live permanently inside the online studio, so you can enjoy them whenever you like.
Move with Love: The Podcast
Listen to our 'love letters to yoga teachers' podcast!