Teacher Development Course
The educational experience you've been waiting for. Ready for your yoga PhD?
You love yoga, and as a yoga teacher you love helping people to feel better. From your experience teaching yoga, you know a good teacher is always learning. Learning new information and ways to support healthy movement and make yoga more sustainable gets you really excited. (I know, me too!) 
But here is the question that I get all the time: How do you integrate the all the heartfelt, transformative aspects of yoga with current research and education?
Yoga as a living tradition continues to evolve. And your teaching model should too. You can stay ahead of the curve while staying true to your roots.

I am truly blown away by this course! Brea's authenticity and presence and sense of humor make it feel like it isn't pre-recorded. I feel like I'm there learning with her. Plus, the amount of content! I was so surprised at HOW MUCH is in the course. And, I can go back and re-watch any time. I also never expected the level of "mentorship" Brea has provided me with. She is always there to answer questions and point me in the right direction. And she is so encouraging! You can ask her a question in her Facebook group and she gets right back to you. Or you can email her and get an immediate response. It's obvious that she is invested in my experience and education and wants to see me succeed as a teacher.
Barbara, Montana
You are a yoga teacher who...

Knows there can be a better way of helping your students use yoga to heal and feel better in their bodies, but aren't sure where to start to learn more and integrate it into your teaching.

Is struggling with putting everything you have learned into a clear teaching model.

Is feeling conflicted with what you were taught about yoga vs the biomechanics of the body.

Wants to have a more applicable understanding of postural habits and alignment to be able to confidently direct your students and clients.

Feels lost in the implementation of all the various theories that sound great but are difficult to put into real life classes.

Is afraid to teach a non-traditional form of yoga and needs the confidence to blaze your own teaching path.  
Join the course to support your students and update your teaching
*For payment plan options, email: [email protected]
Some of the movement theory we will cover
Active vs Passive Stretching
What is the difference between them and how to utilize both approaches to build strength, range of motion and support for your students.
Proprioception & Interoception
 Discover your amazing nervous system and what that means in a yoga practice. Gain a clearer understanding of just how much your nervous system matters for your movement and your sense of well-being.
Yoga Alignment & Biomechanical Alignment:
How to approach alignment from a broader, whole body movement approach.
The Building Blocks
Understanding anatomy from an experiential perspective (without having to memorize anatomical language that your students won't care about). Embodied anatomy for sustainability and injury prevention.
Moving Beyond Flexibility
Understanding mobility, stability and flexibility. Learn a wide variety of ways to build stability for your overly mobile students, and discover that 'sweet spot' where you can be both mobile and strong.
Setting Boundaries
Identify and assess physical boundaries in yoga asana to prevent injury and indentify compensation patterns. Explore how to incorporate boundaries as a teacher, and in relationships.
After 1000's of hours teaching and learning biomechanics, alignment and movement science, I can tell you...it IS confusing and you are NOT alone.
If you're like me, you love to dive into the understanding and research of movement and want to combine that with the ancient wisdom that lives in yoga, but you struggle with the HOW. 
Imagine blending movement science, yoga and alignment into a succinct, sustainable and empowered teaching practice and putting all of that theory into a results based reality for you and your students. 
Want to turn this into a yoga teacher certification?
Registration is now open for The Modern Yogi Certification program. A new model of yoga teacher training that blends online education and live training.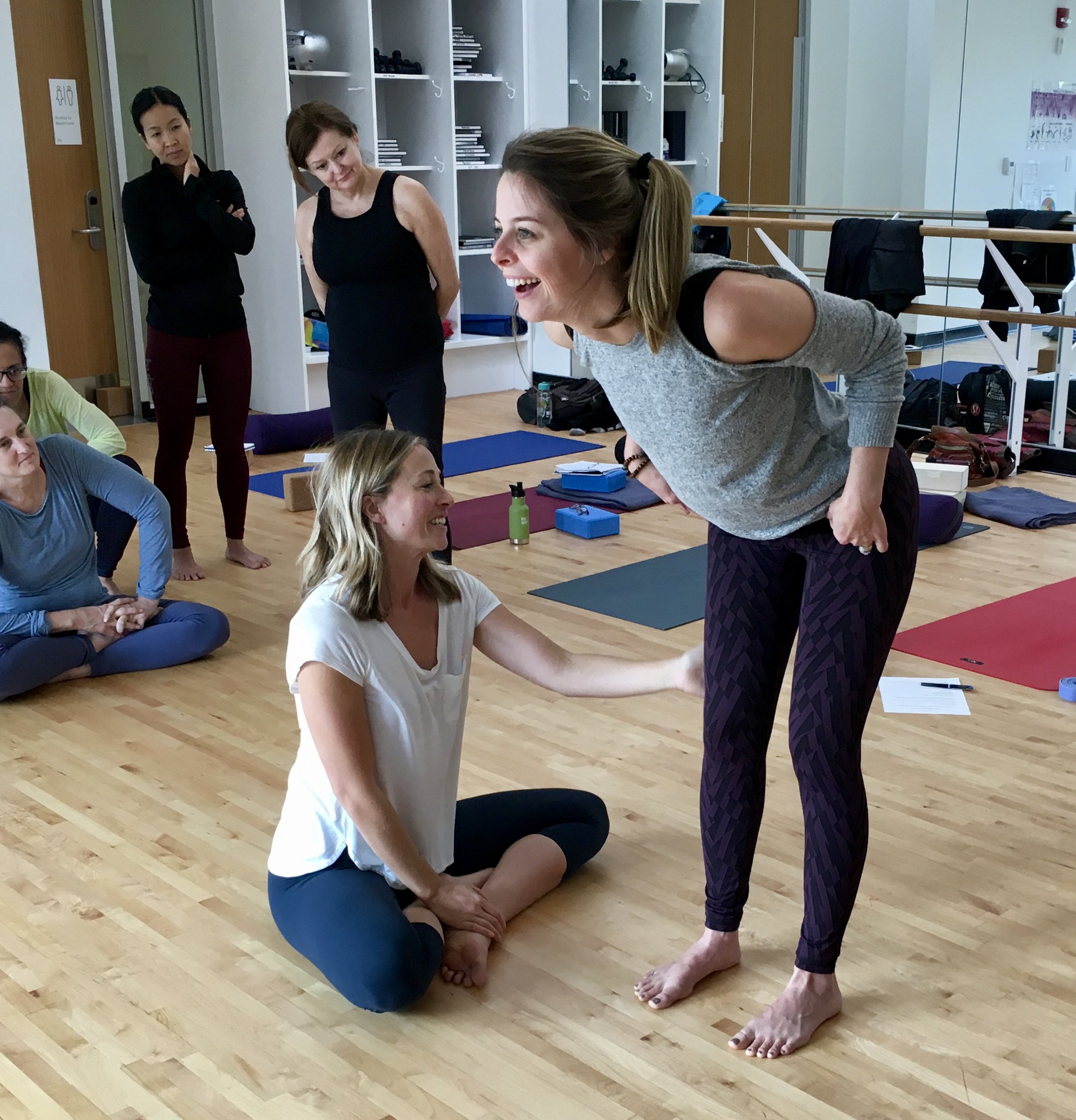 This course is helping me settle into myself as a teacher of movement in the yoga world. I'm preparing to lead my first teacher training and what I've learned here has helped me ground and gain confidence to pursue this unconventional approach in a traditional community. Sharing your information & insights has been integral in me discovering my own voice and platform to share. The last few weeks have been a vibrant place of growth as I share new changes and new ideas. Thank you for sharing your approach and your knowledge with us!
Kimberly, Alaska
THE MODERN YOGI TEACHER DEVELOPMENT COURSE
is designed to give you a clear path and a sustainable approach for the future of teaching yoga. This is a program that will impact you on 3 crucial levels:
IMPLEMENTATION. No more dense intellectual theory, just straight up practical training, techniques that you can literally swipe and make your own.

INSPIRATION. The mindset behind going from an average run of the mill teacher to an exceptional one that is in demand for workshops and retreats that fill up fast.

INCOME. How to leverage what you know into a business that gives clients solid results and allows you to expand your authority and brand along with your awareness.
When you complete the Modern Yogi Course, you will:
Have a new sense of vision and direction to work with a wide variety of people as you move theory into practice and immediately make a difference in your student's lives.
Never be stuck again with a 'what do I do now' feeling when teaching or adjusting your students.
Be more confident and clear on who you are as a teacher, what your voice and niche is.
Become re-inspired and excited to teach again, with a deeper understanding and knowledge to teach at the next level.
Successfully bridge the gap between traditional practices of yoga and modern movement science with confidence, clarity and in your own unique voice.
Become the teacher you have always wanted to be. And as a result, watch your business grow by being on the leading edge in your yoga community. 
Have all the tools necessary to create your own training programs for your students, or programs for teachers.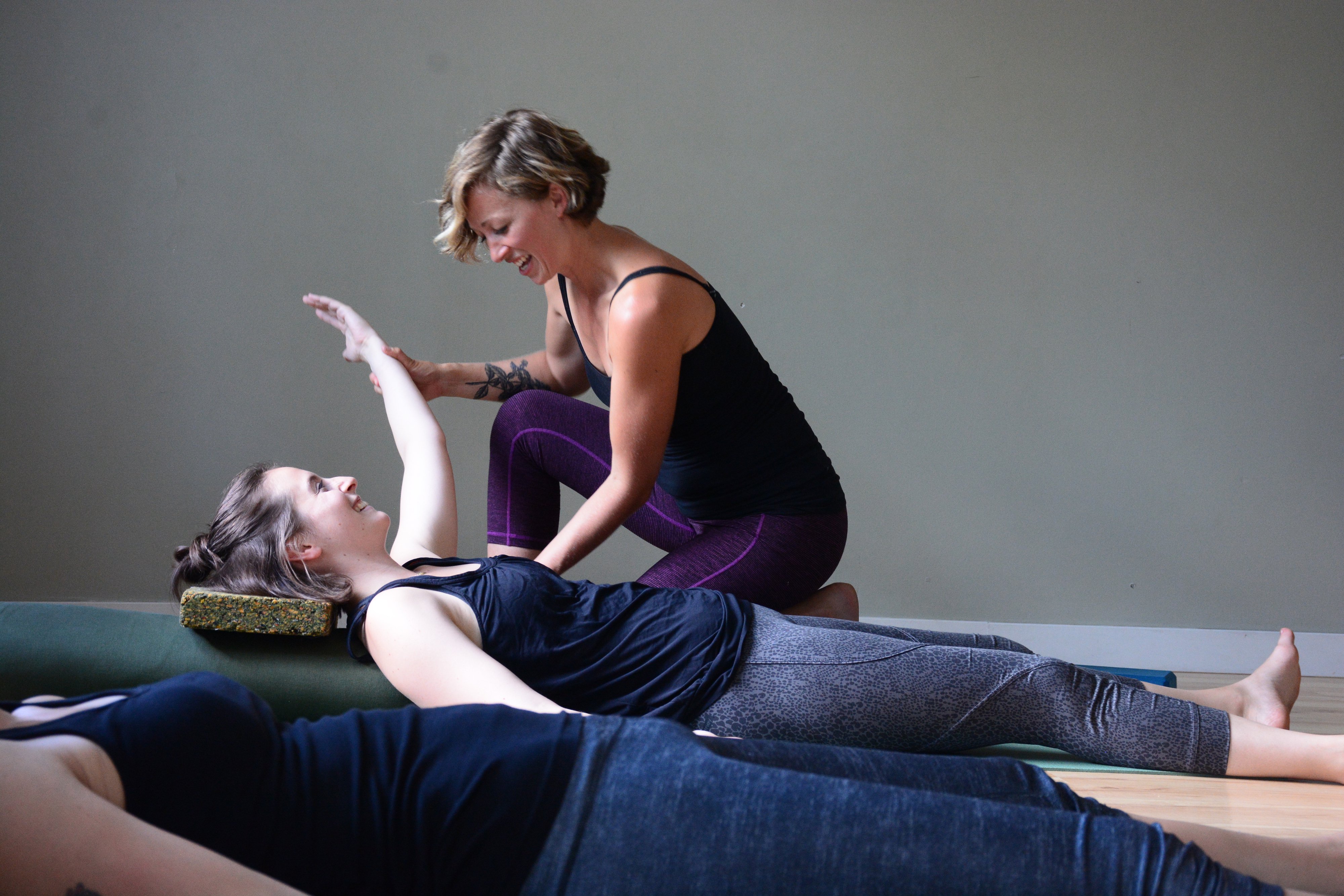 Are you ready to expand your teaching and practice?
*Payment Plan Options, email: [email protected]
This is your post-graduate continuing education, going straight to the heart of what a yoga teacher needs to know to stand out in a crowded market.
This course will set you apart as a teacher and give you the distinctive techniques of leading movement specialists while giving you immediate takeaways to apply to your private practice, classes and workshops for effective and immediate results. 
The course is rooted in the 4 Pillars of a Sustainable Yoga Practice. You will learn what they are and how to apply them to any style of yoga or movement practice. Each of the 4 pillars will make up the four main modules in the course. Within each module, you will learn through lectures and practice videos; movement theory, sprinkled with embodied anatomy and clear, concise teaching and tools to apply theory to practice.
I love the emphasis on each participant in the Modern Yogi, discovering their own vision. It is not the "GURU" lens of relying on one person to guide us. Instead I love that you are empowering a whole group of people to promote and generate a vision that is integrated with who they are as an individual. And yet, still in community.
Emma, Wisconsin
All the content of the course will be available at once for you to go through on your own time and pace. Everything is downloadable and yours to keep forever. 
Because the course is rooted in moving theory into practice, on top of the movement education, you will also receive:
18+ yoga class videos to download and practice along with at your own time and pace so that you can learn how to bring theory into practice within your own body. 
15+ Video lectures and workshop style lessons.
Assessment tools, visual cues and pre-requisite type movements for all body types.
Sequencing cheat sheets to download and use in any of your classes. 
To adjust or not to adjust? Learn the art of mindful adjustments: the when, how and why.
Teaching Toolbox Section: Deconstructing common yoga cues, learn the three common mistakes a modern teacher will make, how to teach an updated, sustainable yoga class without losing your students or studio job.
Heart & Mindset Practices Section: Learn how to keep the heart of yoga while integrating the movement education. Explore your belief patterns that may be limiting you, tools and practices to build confidence as a teacher and educator, connect more deeply to your intuition, stepping into your own power and so much more.
Throughout the course, I've found I've developed a greater awareness of muscles and joints and how to keep them strong and mobile. Being able to work through the program at my own pace was important to me and I've found the lessons are well planned and layer nicely from one to the next. I like that I can do a lesson and immediately add what I have learned into my next class. Brea is very enthusiastic and very natural on the videos. I love to connect with that energy, I feel like we are in the same room but I didn't have to leave the comfort of my own home. Brea's method is simple and effective and the information is improving my personal practice and my teaching skills. Thanks!
Asana Lab Course
 Deconstruct 14 of the most common yoga asanas and learn how to make them more sustainable. 
The Teacher's Niche
How to stand clear, confident and strong in who you are and what you offer, to help more people in the world. 
How to market yourself without being a jerk
Learn to share your authentic self and overcome your resistance or fears around promoting or marketing so that you can make a sustainable income doing what you love.
The Modern Yogi is the balance between theory and practice with a large emphasis on practice. It is in the practice where we make the theory real and applicable. It is in the practice where you will get the light bulb moments of clarity and inspiration. It is in the practice where you will be able to weave together what you already know with what you are learning to make it your own. Yoga is a living tradition. Which means that you are free to apply, adapt and create a yoga practice that is meaningful to you and your students. 
Ready to start learning?
You will immediately receive access to the entire course so you can immediately begin!