July 27, 2021
Season 2 of the Move with Love Podcast!
a love letter to yoga teachers.
New for Season Two!
We tend to see the same yoga celebrity teachers featured everywhere. And as a result, so many insightful, experienced and wonderful yoga teachers don't get to have their voices heard. 
This season, we aim to change that by interviewing yoga teachers who have unique niches, who disrupt the mainstream image of what a yoga teacher should be, and listen to their relatable experiences and wisdom as teachers.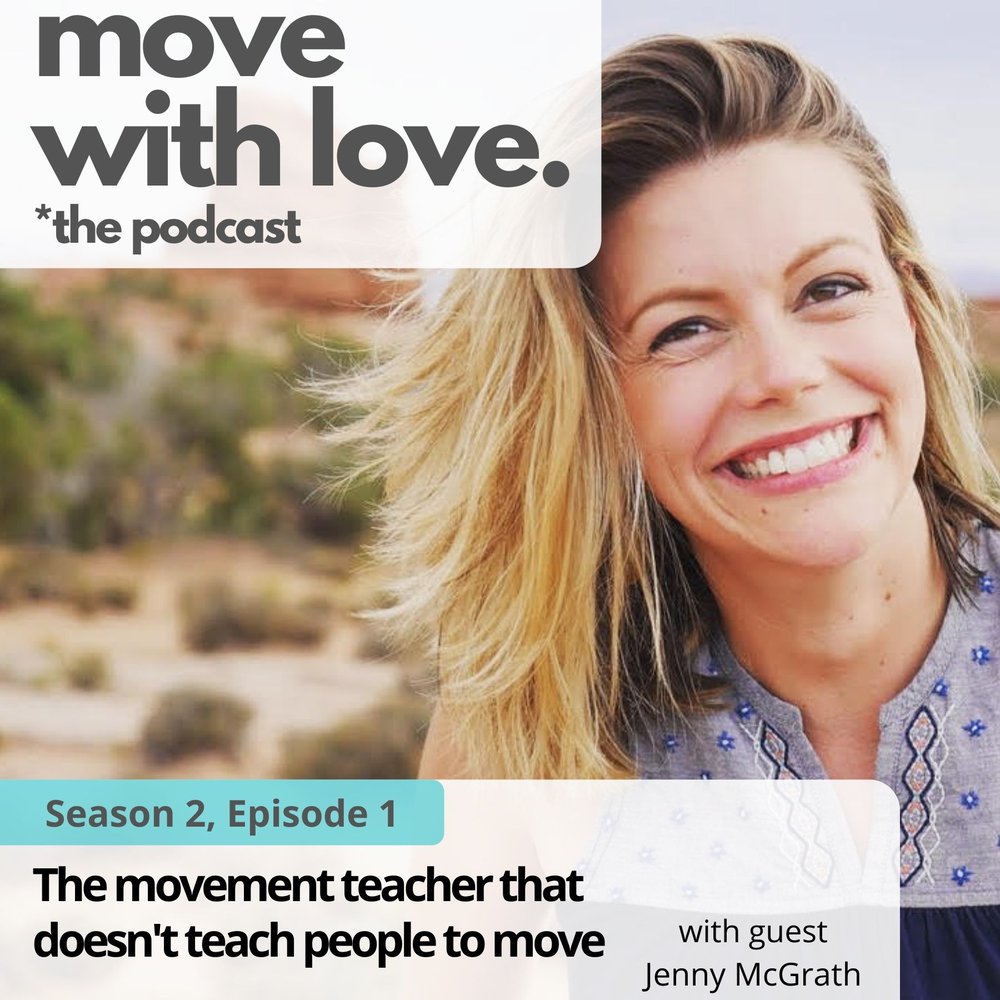 Episode 1: The movement teacher that doesn't teach people to move.
What does it mean to be a movement teacher that doesn't teach people to move? This episode explores how to invite freedom, exploration and permission in our yoga classes to help people find autonomy, healing and a deeper sense of self. This approach offers an accessible way to bring trauma-informed practices into your teaching. With guest, Jenny McGrath. Jenny McGrath has a curious, compassionate way of talking about big subjects and making them easily applied into our life and perspectives around yoga.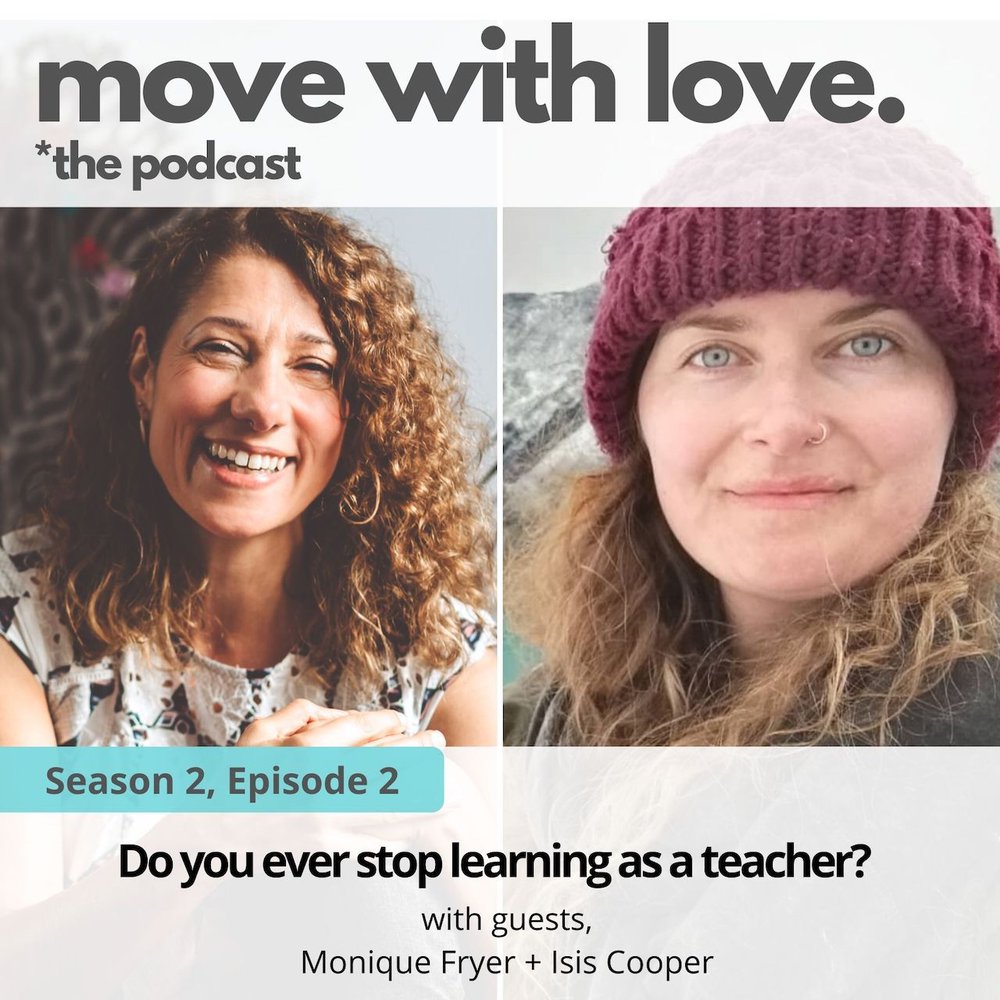 Episode 2: When do you stop learning as a teacher?
Is there a time where you feel like you know enough to take your teaching to the next level? Is there a next level? Or does the learning ever end as a yoga teacher? If you are a new or experienced teacher, you'll breathe more than one sigh of relief as you listen to our honest discussions all about how to show up as a teacher when you don't feel confident, or when the imposter syndrome knocks on your door. We normalize the fears and worries that most teachers feel but is rarely talked about in the yoga-world. 
Brea Johnson is joined on this episode by Monique Fryer and Isis Cooper, experienced yoga teachers and yoga teacher mentors. They are two of the mentors in the Heart + Bones, Modern Yoga Teacher Training course and you'll love listening to their light-hearted and real-life wisdom of how to show up as yourself as a teacher and embrace the never-ending learning and growth that yoga and teaching yoga offers us!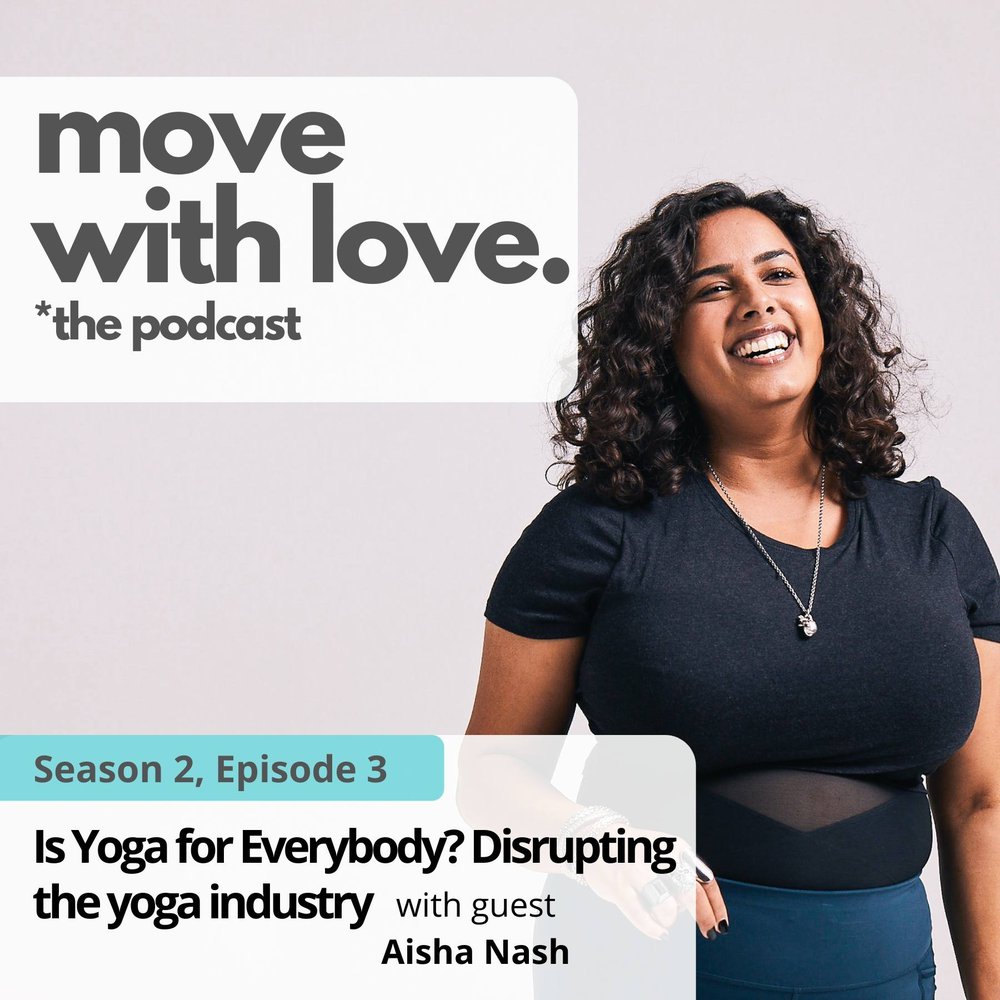 Episode 3: Is yoga for everyone? Disrupting the yoga industry with Aisha Nash
As yoga teachers, are we reinforcing unhealthy ideas without realizing it? Can yoga be not just for everybody, but every body? How do we make yoga more inclusive and offer ways for people (including yourself as a yoga teacher!) to show up as themselves? We dive into this and so much more with London-based yoga teacher, Aisha Nash. 
Aisha teaches an anti-diet approach to yoga which not only looks at how harmful the diet and wellness industries can be but how they also show up in mainstream yoga classes. You'll get so many new ideas and perspectives from this conversation that you'll immediately be able to apply to your classes. Along with many more ideas to think about and unpack... in the best possible way.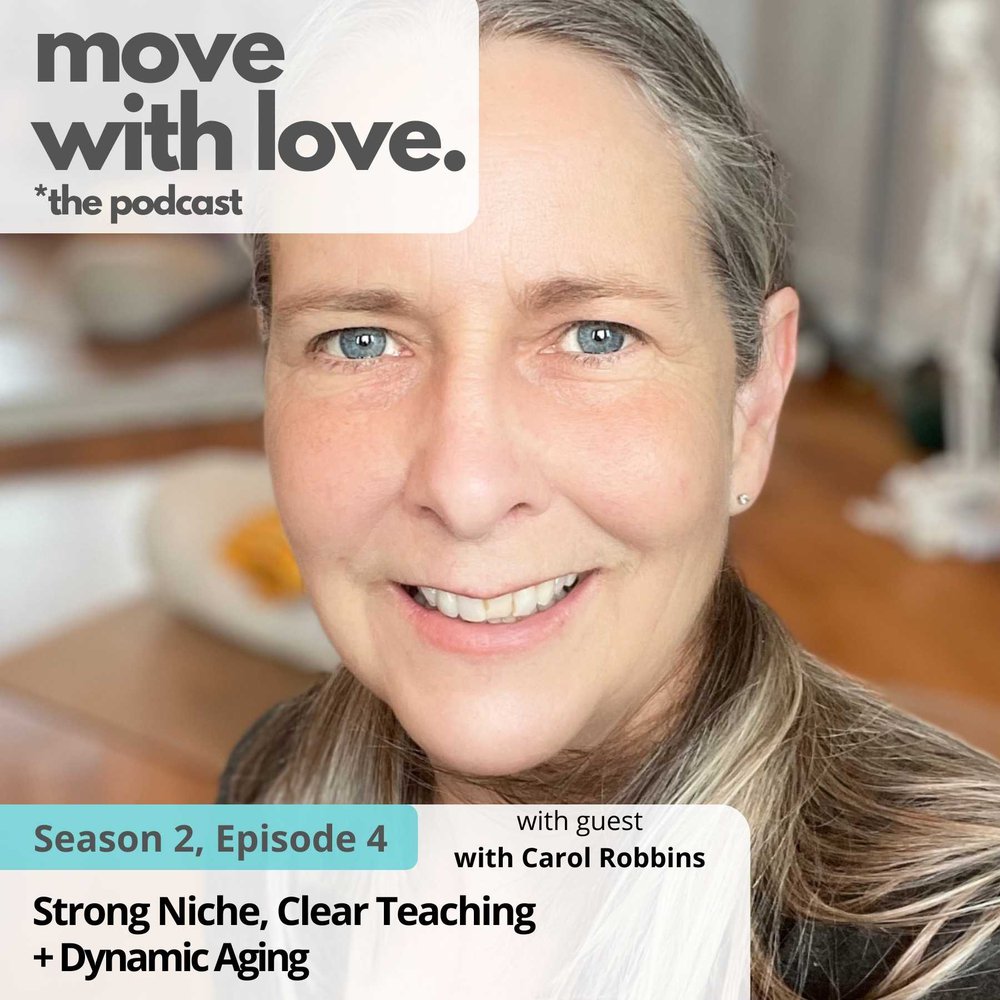 Episode 4: Strong Niche, Clear Teaching: Dynamic Aging with Carol Robbins
When you know who you teach and how you can help them, it makes your teaching so much easier. We talk to Carol Robbins, a yoga and Pilates teacher who has found success through her clear niche as a teacher. Carol focuses mainly on healthy and dynamic aging and we talk all about how to find your niche, how that provides a clearer roadmap for your sequencing of classes and easier marketing.
Not only do we talk about the importance of niches for yoga and movement teachers, but Carol also shares a ton of interesting information about healthy aging and how that knowledge sets the people in our classes up for success, no matter what age they are.  
Episode 5: How Accessible Yoga Benefits Everybody with Kristine Sofiedal 
You might think that teaching accessible yoga means teaching people in chairs or those with injuries. But when you teach with the intention to create classes that everyone can feel good in then you're teaching accessible yoga.
And yet, the cues you use, if you use props or not, and the language in your classes might not actually work for everyone that attends. So what really is "accessible" yoga and how do we incorporate that mindset into our classes?
In this powerful and insightful episode, Kristine Sofiedal shares her experience as a yoga teacher and practitioner in a larger body. Her story and journey will inspire you deeply and help you see how you teach yoga in a whole new light. A must listen!
Many people experience chronic pain and illness and yoga can be a supportive pain management tool. As a yoga teacher, there will be people who come to your classes with chronic pain or illness and but do you know what to do? How can you offer a practice that acknowledges their needs in a loving and supportive way?
In this episode, you'll gain tools and insights for how to integrate accessible practices into your classes to support all bodies. 
I talk with yoga teacher, Astrid van Rens who teaches those with chronic pain and has a lived experience of chronic pain and fatigue. From her personal and professional experiences, she has a wealth of knowledge to share with yoga teacher and those with chronic pain to build supportive yoga practices into your classes.
Want helpful yoga teacher tips in your inbox?
Join our Yoga Teacher Toolbox newsletter!